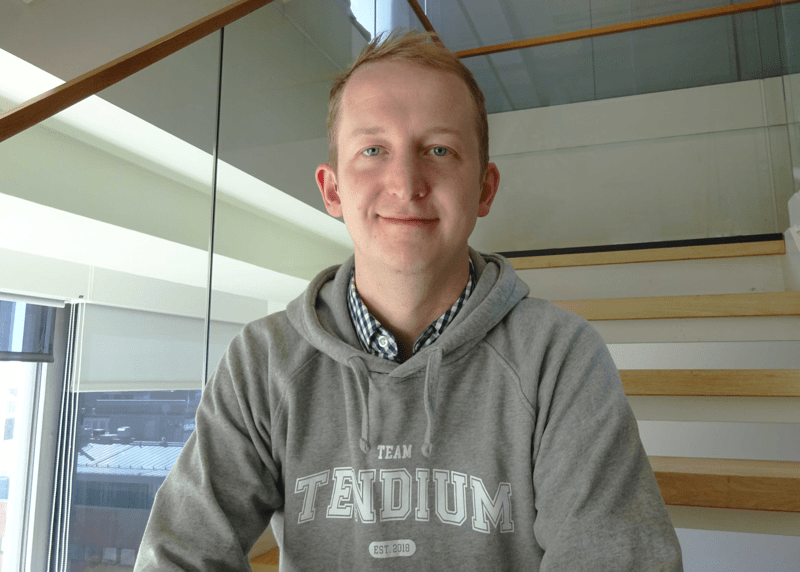 Working as a Lead Data Analyst at Tendium
What is your background, and why did you choose to work at Tendium?
I originally came to Sweden to study economics at Stockholm School of Economics after finishing my undergraduate degree at Harvard. At SSE, I had the chance to take classes in their data analytics track and decided that data analysis was the career for me. A friend told me about an opportunity at Tendium, so I interviewed, and here I am.
What is your position at Tendium and what does a normal day look like for you?
I'm the lead data analyst at Tendium, so I work mostly with SQL, R, and Python to create reports and give people the data excerpts they need. I also work to ensure a high standard of data quality across the projects I work on and have been getting more involved with the early stages of data collection. I'm on the data retrieval team, which works to collect public procurements and purchase ledger data from a variety of sources and put them into a single, standardized format in our databases.
My day-to-day schedule can be quite different, depending on the projects I'm working on. In the morning, I handle my emails and any error reports. Then at the daily standup, my team discusses progress we've made on the two-week list of tasks we're working on, and we go over any problems that have come up. After lunch, there might be meetings about planning, current issues, or data deliveries (etc.), but otherwise I continue working through the stories in my team's sprint.
What has it been like for you, as a native English speaker, to work at a company in Sweden?
Most important communication happens in English at Tendium, including company-wide emails and important technical documentation. That said, we are in Sweden, where people sometimes speak Swedish, so lunches can be bilingual. I've taken the chance to brush up on my Swedish, but I'm glad to be working where I feel included despite not being entirely fluent. Tendium has other employees who don't speak any Swedish at all, and I'm sure they feel the same way.
What do you think your co-workers' biggest strengths are? Are there any recurring competencies or personalities among the people you work with at Tendium?
My co-workers are both hardworking/self-driven, but also laid-back and fun to work with. People here are also supportive, and help you grow: On my team, I work with engineers who study (or have studied) at KTH, and they've supported me as I've begun to work more with data engineering tasks, i.e. not just analyzing clean data but focusing also on the collection process, which requires more coding knowledge. Though I have less programming experience than them, they've helped me step outside of my comfort zone.
What is the best thing about the office and the work environment?
I guess the best thing about the physical office is the location. Tendium is located right by T-Centralen, so if you want to physically come to the office, it's easy enough to do (I walk to and from the office every day). We switched offices recently, and the new space is really comfortable. So I would say the work environment here is relaxed, and it's easy to focus and get things done. We also have AWs and board game nights some Fridays at the office.
I usually come to work between 8 and 9 and leave between 5 and 6, but the hours are pretty flexible: Some people come later and work later or work flexible hours from home. As long as our projects are moving forward. We also use an online office space app as well, so even if you don't physically come to the office, you can go to meeting rooms or chat with workmates over "fika" in the app. It's a pretty cool way to include people who work from home and "hang out" with them.
What have you learned since joining Tendium?
I've learned a huge amount since joining Tendium. On a personal level, I've been able to improve my statistical programming (R, Python Pandas) skills, create dashboards, and work with large databases. Also, as I said earlier, I've been able to work outside of my comfort zone and work more with data infrastructure.
I should mention that I didn't know much about the public procurement process before interviewing at Tendium, and now I know a lot. It might not seem like the flashiest subject to a 20-something-year-old, but when it accounts for 15-20-ish percent of every country's GDP, it should at least be on everybody's radar... It's a lot of money!