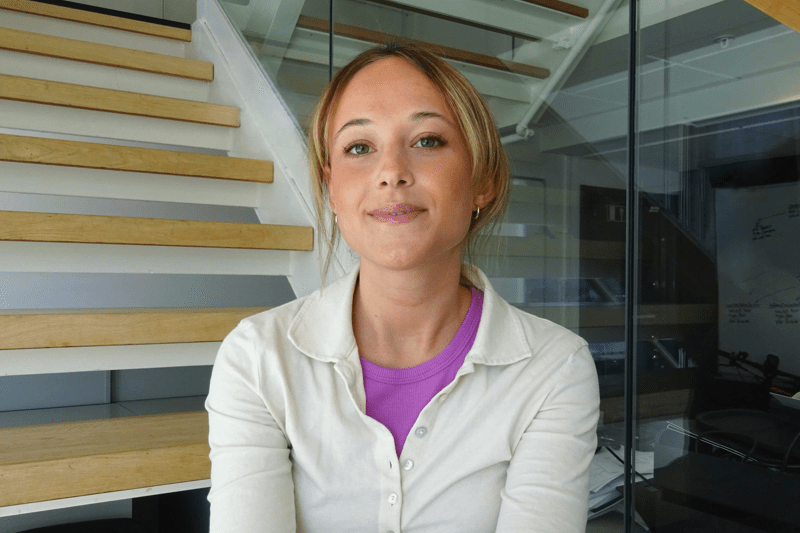 Working as a Business Analyst at Tendium
What is your background, and why did you choose to work at Tendium?
My name is Anny and I'm a 22-year-old student from Stockholm. This summer I will graduate from Uppsala University with a bachelor's degree in Economics, specializing in public economics and applied microeconomics. The main reason I decided to apply for a position at Tendium was that I aspire to make a positive difference in our society, and, at the same time, I want to work within public economics, business intelligence, data analytics, or related fields. Tendium seemed like a modern company where you can advance based on your skillset and ambition, and I was correct.
What is your position at Tendium, and what does a normal day look like for you?
I started at Tendium about nine months ago as a junior analyst on the data team, and up until recently, I often worked five hours every Thursday and Friday between 07-12. Now, I work four hours every day as a business analyst, a role with some other tasks and greater responsibility. Daily tasks within the data team vary but are mainly focused on analyzing procurement data. Currently, I'm also writing my thesis together with Tendium, which I'm super thrilled about. Thankfully, the work-time is flexible at Tendium, so I can decide for myself when I want to start and get off every day. This is also why I'm able to work 50 percent and study 100 percent.
What do you think your co-workers' biggest strengths are? Are there any recurring competencies or personalities among the people you work with at Tendium?
In the data team, I would say the most recurring competency is analytic ability. Each of us has a background in either economics, business administration, law, or medicine, where assessing and making decisions on data is vital. We also have extremely talented people on the tech side of the company where the competencies instead consist of software engineering, UX design, and machine learning. Company-wide I enjoy seeing how invested everyone is in Tendium, and it's inspiring to see such talented people working extremely hard toward a common goal.
What is the best thing about the office and the work environment?
The office is situated in the center of Stockholm, which I highly appreciate since there are a lot of restaurants available for lunch or stores if you need anything. Everyone at Tendium works really hard and I thrive in that kind of atmosphere. The organizational culture can be compared to something like a race car: top speed and highly resourceful. I have also met the kindest people here. I feel like you can ask anyone for practically anything, and they would do their very best to help you. The digital flexibility is also one of the things I enjoy, because it makes the work-school-life balance easier, less stressful, and more fun.
What have you learned since joining Tendium?
Honestly, I knew very little about procurements before I had my interview at Tendium. Now, since I'm also writing my thesis about this, I feel like public procurement has become my area of expertise. Obviously, there's still a lot to learn, but I want to emphasize the learning curve you have, especially in the data team. I have also learned and gained an understanding of the workings of AI and most importantly, the process of transforming an idea into a concept and then into a company.